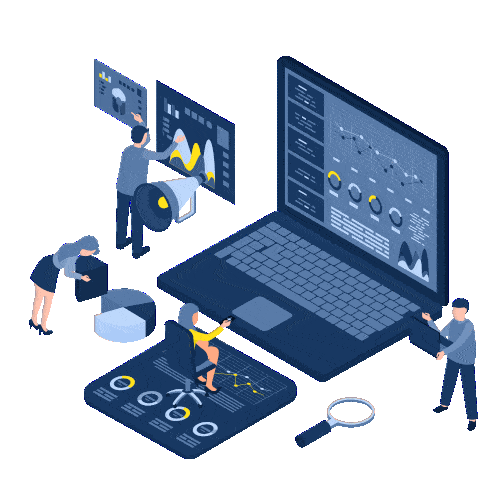 Keyword research is a process of discovering and analyzing keywords and phrases that people use to search for products, services, or information online. It involves identifying the terms and phrases that are relevant to a business and its target audience and determining the level of search volume and competition for each term.
Keyword research helps businesses to understand their target audience's search behavior, the terms they are using to find what they're looking for, and the content and offers that will most likely resonate with them. With the information gathered from keyword research, businesses can make informed decisions about the keywords to target in their digital marketing efforts, such as SEO and PPC, in order to drive relevant traffic to their website and improve their online visibility and conversions.
Setting up an email marketing campaign involves defining the target audience, creating an email list, developing a content strategy, and choosing an email marketing service or platform to manage and send the emails.
To reach and retain customers, email marketing management involves creating engaging and personalized content that resonates with the target audience, segmenting the email list to send targeted messages, regularly sending emails at a frequency that is appropriate for the target audience, and testing and optimizing the campaigns based on their performance. Email marketing also involves analyzing data and metrics, such as open rates, click-through rates, and conversion rates, to understand how well the campaigns are performing and to make informed decisions on how to improve them.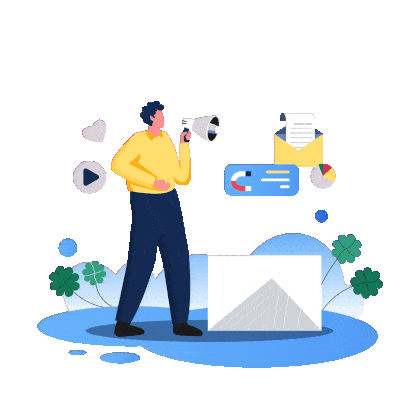 Social media marketing is the process of promoting a brand, product, or service through various social media platforms such as Facebook, Twitter, Instagram, etc.
To reach and engage audiences on social media, a social media marketing strategy typically involves creating a content plan that aligns with the brand's overall marketing goals, developing a schedule for posting, and choosing the right platforms for the target audience. Social media management also involves engaging with followers and responding to comments, posts, and messages, tracking and analyzing performance data, and regularly adapting the strategy based on the results.
Additionally, social media marketing can also involve running paid advertising campaigns on platforms such as Facebook and Instagram, which allows for targeted reach and increased visibility.
Content marketing is a strategy aimed at creating and sharing valuable, relevant and consistent content to attract and retain a clearly defined audience — and, ultimately, to drive profitable customer action. The goal of content marketing is to educate and engage the target audience by providing them with information that is useful, interesting and valuable. This can be in the form of blog posts, videos, podcasts, infographics, social media posts, and other types of content that provide value to the target audience.
The ultimate aim of content marketing is to build a strong, loyal audience by providing them with valuable content that helps them solve a problem, meet a need, or achieve a goal.
Influencer advertising is a type of digital marketing that leverages the influence of trusted third-party individuals, known as influencers, to promote a brand, product, or service to their followers. Influencer advertising involves partnering with influencers with a large and engaged following in a specific niche or industry and aligning with the brand's values and target audience.
The influencer promotes the brand to their followers through sponsored posts, social media mentions, or product reviews, and their endorsement can increase the brand's credibility and reach among their followers. The goal of influencer advertising is to build trust and credibility with the target audience by leveraging the influence of trusted individuals and to increase brand awareness, drive conversions, and generate leads. Influencer advertising requires careful selection of influencers, development of a mutually beneficial partnership, and effective tracking and measurement of results.
Digital marketing uses digital channels, such as websites, social media, email, search engines, and mobile applications, to reach potential customers. It is an effective way to target specific audiences and promote products or services. Digital marketing allows businesses to track their campaigns in real-time, helping them measure results and adjust as needed. This will enable companies to maximize their return on investment.
Digital marketing also offers a range of advantages over traditional methods of promotion. For example, it's more cost-effective than print advertising or TV commercials and can be tailored to a specific audience. Additionally, digital marketing campaigns can be quickly implemented and adjusted as needed. This makes it easier for businesses to stay up-to-date with the latest trends in their industry and keep ahead of the competition.
Overall, digital marketing is invaluable for businesses looking to reach new customers and increase brand awareness in today's digital world.
There are many different types of digital marketing, each with advantages and benefits.
One of the most popular types of digital marketing is SEO content, which focuses on optimizing websites to appear higher in organic search engine results. SEO involves researching keywords, creating optimized content for those terms, and optimizing page titles, headings, meta descriptions, and other on-page factors.
Another type of digital marketing is content marketing. Content marketing involves creating valuable content that appeals to your target audience and encourages them to take action. This could include blog posts, videos, ebooks, infographics, and more. Content marketing can be used to educate potential customers about your products or services and build brand awareness.
Social media marketing is another type of digital marketing that has become increasingly popular in recent years. Social media allows businesses to interact with their target audience and build customer relationships.
Finally, Email campaigns are also an essential part of digital marketing. Email campaigns involve sending emails to an existing list of subscribers to increase engagement or conversions.
Using a digital marketing service can be a great way to maximize the potential of your online presence. Digital marketing services provide expertise and strategies to help you reach your target audience more effectively, saving you time and money in the long run.
Digital marketing services can also provide detailed analytics about your campaigns' performance, allowing you to make informed decisions about where to focus your efforts for maximum impact. With access to data-driven insights, you can optimize your campaigns for better results and track progress in real-time.
Finally, digital marketing services can stay on top of the ever-evolving digital media landscape, giving you an advantage over other businesses that may not have access to the same resources or knowledge. By partnering with a digital marketing service, you can ensure your campaigns remain up-to-date and effective.
The cost of a digital marketing service can vary widely depending on the scope of your needs. Generally speaking, you should expect to pay anywhere from a few hundred to several thousand dollars monthly. That said, it's important to remember that you get what you pay for. Investing in a quality digital marketing service is an investment in your business and its future success.
When selecting a digital marketing service provider, ask about their experience and proven track record. Ensuring they have the right tools and resources for your specific goals is also essential. With the right provider, you can maximize your return on investment by creating campaigns explicitly tailored to your target audience and business objectives.
Investing in digital marketing services can help you reach more customers, increase brand awareness, and drive more sales for your business. With the right strategy and partner in place, the benefits of digital marketing can far outweigh its costs.
SEO (Search Engine Optimization) is optimizing your website to increase its visibility in search engine results. It involves keyword research and content optimization techniques to help improve your website's ranking in organic search results.
Digital marketing, on the other hand, involves a wide range of activities designed to reach potential customers through digital channels. This includes email campaigns, social media marketing, content marketing, and display advertising. These strategies build brand awareness, generate leads and sales, and engage with existing customers.
In summary, SEO focuses on improving organic search engine rankings, while digital marketing covers a variety of tactics for driving traffic to your website. Both strategies are essential for any business looking to maximize its online presence and get the most out of its digital marketing efforts.